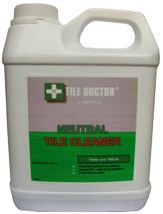 Concentrated Neutral Tile & Stone Cleaner
Most tile cleaning products sold on the market today are designed for cleaning ceramic rather than stone surfaces, as a result they can slowly etch away at the sealed surface of your stone floor reducing the life of your sealer. Tile Doctor concentrated Neutral Tile and Stone cleaner has been especially formulated for the regular cleaning of Sealed Stone and Tile surfaces keeping them fresh with a pleasant mint scent.
It's pH neutral phosphate free formula ensures your sealed surface remains undamaged eliminating soap scum build up, hard water deposits and its super-concentrated so one bottle is enough to make up to 121 litres.
Uses
Use on Grout, Natural Stone floor, Ceramic, Porcelain, Adobe Tile, Quarry, Terracotta, Masonry surfaces or other water-safe surfaces. This cleaner is ideal for sealed floors, its neutral PH formula will not degrade the sealer.
Recommended for the following Surfaces
| | |
| --- | --- |
| Adobe Tile | Ceramic Tile (Glazed and Unglazed) |
| Grout | Masonry |
| Natural Stone | Porcelain Tile |
| Quarry Tile | Resilient Tile |
| Sandstone | Terracotta Tile |
| Other Water-Safe Surfaces | |
Shopping Information
1 litre bottles £12.60 each
Postage & packing £5.50 (Incl.VAT) for 1 litre bottle, £10 (Incl.VAT) for two or more items.

5 litre bottles £47.30 each
Postage & packing £10.00 (Incl.VAT) for 1 or more items.
For more information about Neutral Tile Cleaner visit www.TileDoctor.co.uk.