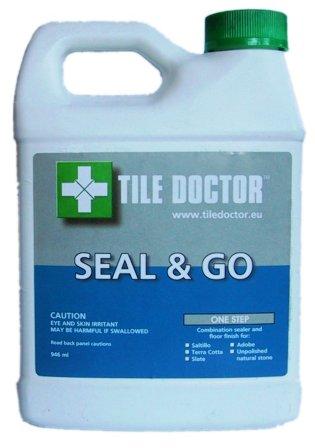 A specially formulated water-based blend of acrylic polymers that provides both a stain resistant surface seal and a durable low-sheen finish eliminating conventional two-step methods. May also be used as a pre-grouting sealer. Allows moisture vapor transmission and is not affected by ultra-violet light.
Uses
Use on internal unsealed, porous surfaces such as slate, textured quarry, saltillo, sandstone, Victorian Tile, terra cotta, cement pavers and masonry.
Recommended for the Following Surfaces
Concrete Tile

Grout

Quarry Tile

Saltillo Tile

Sandstone

Slate

TerraCotta Tile

Victorian Tile
Shopping Information
1 Litre bottles £16.00 each
Post and Packing £5.50 (Incl.VAT) for 1 litre bottle, £10 (Incl.VAT) for two or more items.

5 Litre bottles £69.00 each
Post and Packing £10.00 (Incl.VAT) for 1 or more items.



For more information about Tile Doctor Seal & Go Sealer visit www.TileDoctor.co.uk.