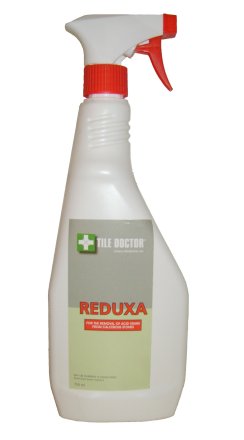 Reduxa – Penetrating Stone Tile Stain Remover
Reduxa is an effective ready to use cleaner designed to remove acid stains from calcareous stones. Will remove or quite visibly lighten stains on stone caused by Tea and Coffee, Red and White Wine (Tannic Acid), Orange and Lemon Juice (Citric Acid), Cola (Phosphoric Acid), Vinegar (Acetic Acid) and Uric acid. Reduxa will not remove rust markings from stone but can lighten the colouring
Uses
It can be used on all types of stone especially calcareous stone where acid staining is a problem, such As Marble, Limestone and Travertine. It can also be used on polished stone surfaces where the same treatment can be applied, but re polishing will be required to restore shine.
Recommended for the Following Surfaces
Limestone
Marble
Travertine
Shopping Information
750ml bottles at £15.80 each
Postage & Packing £5.50 (Incl.VAT) for 1 bottle, £10 (Incl.VAT) for two or more items.
For more information about Tile Doctor REDUXA visit www.TileDoctor.co.uk.