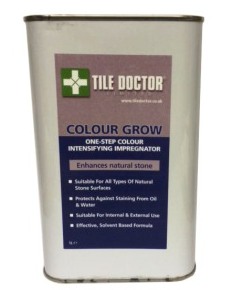 Colour Grow, is a solvent based colour intensifying sealer that provides durable surface protection as well as allowing the surface to breath and enhance colour.
Uses
Use on unpolished surfaces including Flagstones, Flamed Granite, Limestone, Marble, Quarry Tile, Sandstone, Slate (Riven and Semi Riven), Travertine and Victorian Floor Tile. Colour Grow is suitable for both internal and external applications and recommended for areas where no damp proof course is evident.
Recommended for the following Surfaces:
Flagstone
Flamed Granite
Limestone
Marble
Quarry Tile
Sandstone
Slate
Terracotta
Travertine
Victorian Tile
Coverage
A single 1 Litre bottle will cover approximately 15 m2 to 20 m2 (150 to 210 sq. ft.) depending on porosity, type of surface, temperature, humidity, and method of application. Two coats of sealer should suffice on most floors tiles including denser materials such as Flamed Granite and Smooth Sandstones, a further coat may be required on rougher uneven surfaces and porous stones such as Slate, Flagstone, and Limestone. Clay type tiles will require more coats depending on porosity.
Shopping Information
1 Litre bottles £31.50 each
Post and Packing £5.50 (Incl.VAT) for 1 litre tin, £10 (Incl.VAT) for two or more items.

5 Litre bottles £131.30 each
Post and Packing £10.00 (Incl.VAT) for 1 or more items.
For more information about Tile Doctor Colour Grow Sealer visit www.TileDoctor.co.uk.