This customer had just bought a house in the small Shropshire village of Nesscliffe. Like many new property owners, she was keen to make some changes to the interior decoration, deciding to pull up the carpet they she didn't like that covered almost the entire ground floor of the house. Upon doing so she and her partner discovered a large area of original Quarry tiles.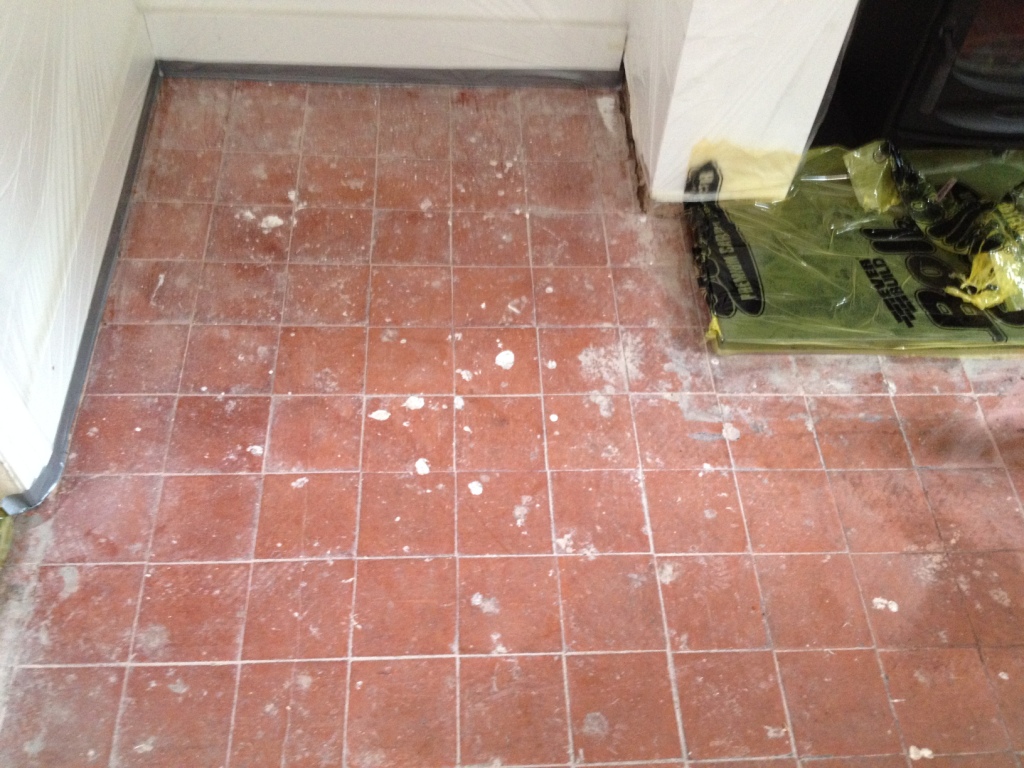 They decided that instead of replacing the carpet with a new one, they would keep the original floor and attempt to restore its condition. However, their efforts to restore the tiles by themselves proved ineffective – many of the cheaper, supermarket cleaning products were not suited for the job of removing years' worth of dirt and stains.
At that point they decided to call me. I visited the property and ran a test clean to see what could be achieved. The customer was more than happy with the initial results and booked me in to undertake the full restoration.
Cleaning Dirty and Stained Quarry Tiles
The most noticeable problem with the tiles was a series of paint splashes and plaster deposits covering almost the entirety of the floor, the result of previous decoration work and the installation of carpet.
I removed these by applying a strong dilution of Tile Doctor Pro Clean and working it into the tiles using a scrubbing brush fitted to a rotary machine, with the alkaline cleaner reliably breaking down the stubborn paint splashes.
I then worked the product into the grout lines too using a grout brush. To tackle the plaster and cement-based residue I used Tile Doctor Grout Clean Up, a phosphoric acid cleaner which removes heavy stains.
Following the cleaning, I left the floor to dry for a week to allow for any excess moisture to evaporate.
Sealing Quarry Tiles
On my return to the property I immediately checked whether the floor was dry enough to be sealed. We always do this as excess moisture can very easily effect the performance of the sealer.
Thankfully the floor was completely dry and I was able to seal the tiles using five coats of Tile Doctor Seal & Go. Seal & Go is a topical sealer, meaning it builds up a layer of protection again dirt and stains on the surface of the stone. We recommend it for tiles such as Quarry, Victorian and Slate. While offering surface protection it also provides a pleasing low-sheen finish.
The customer was really pleased with the result. Within a week the newly discovered Quarry tiled floor had been transformed from an apparent lost cause to a real asset to the home of the new property owners.
Professional Quarry Tiled Floor Restoration in Shropshire
[ad_2]

Source link