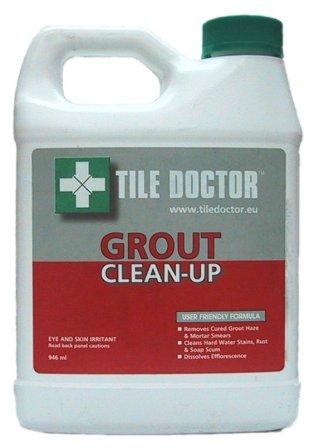 Grout Clean-Up contains concentrated hydrochloric acid and cleaner designed to penetrate below the surface to remove light grout smears (grout haze), mineral deposits, rust stains and efflorescence. This product is also effective for the removal of most hard water stains, lime deposits and soap scum.
Uses
Recommended for use on masonry surfaces and acid resistant stone such as Cermamics, Porcelain, Sandstone and Slate.


This product is ideal for removing Grout Haze, you need to put it in a spray bottle and spray it on to the wall tiles, and use a rough pan cleaner to remove the haze. On the floor do the same but trying use a scrubbing brush, rinse down with water afterwards you may need to do this 2 or 3 times, to get a good result. If the problem is more that of general dirt and grime then use Heavy Duty Tile and Grout Cleaner first.
Coverage
Approximately 9m² to 27m² (100 to 300 sq. ft.) per 1 litre bottle depending on dilution.
Shopping Information
Tile Doctor Grout Clean-Up Acid Cleaner 1 litre
1 litre bottles at £11.00 each, postage & packing £5.50 (Incl.VAT) for 1 litre bottle,
£10 (Incl.VAT) for two or more items.
Tile Doctor Grout Clean-Up Acid Cleaner 5 litre
5 litre bottles at £45.00 each, postage & packing £10.00 (Incl.VAT) for 1 or more items.



For more information about Tile Doctor Grout Clean-Up visit www.TileDoctor.co.uk.