Detailed below is the restoration of a beautiful Victorian tiled hallway that we completed for a 'co-housing' community who had purchased a large house in Nether Edge. Situated three miles south if Sheffield, Brincliffe House was built in 1850 and had been used as NHS offices since the end of the Second World War but had been empty since 2012. Built originally for Herbert Unwin who was the owner of Pond Street Brewery it was now subject to a three-million-pound conversion into fifteen apartments.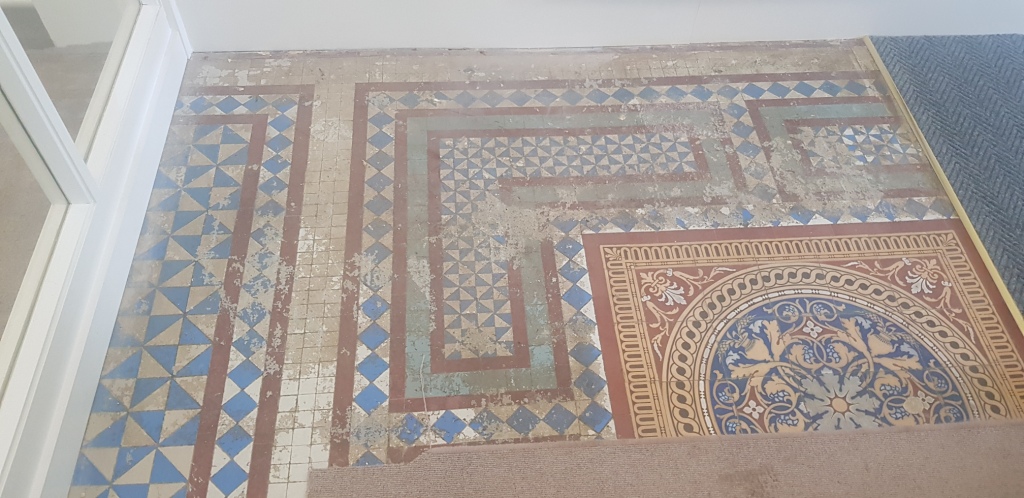 When we first visited the property to survey the floor, we were shown around the ground floor where they had discovered magnificent Victorian tiled floor. The new owners had no idea the floor was there as the NHS had covered it up decades earlier and glued carpet on top. Being a co-housing community, they were keen to do the restoration themselves however after several unsuccessful attempts to remove the strong carpet adhesive they thought better of it and called us in. We ran several tests and worked out the best way to remove the glue. The floor covered about 70 sqm in total so we knew we had our hands full.
Removing Carpet Glue from an Old Victorian Tiled Floor
I'd worked out that the best way to remove the carpet adhesive was a combination of coating remover products and abrasive burnishing pads, these are industrial diamond encrusted pads that are usually used to resurface stone however we find they work equally well on Victorian tiles as well.
Working in small sections the floor was treated with a Tile Doctor 200-grit 17 inch Diamond pad fitted to a rotary floor buffer using water as a lubricant. This stripped off a lot of surface dirt and glue which was then rinsed off with water and extracted with a wet vacuum. Next the floor was coated with a mixture of Tile Doctor Remove & Go and Wax Away, two powerful coating removers that are safe to use on Tile and Stone. The mixture was left to soak into the tiles for about twenty minutes before being scrubbed in with a black scrubbing pad which slowly released the glue and dirt from the pores of the tile. In some areas the glue was so thick we found it necessary to use hand scrapers as well. As before the soil was rinsed off with water and then extracted using a wet vacuum.
Each section of flooring was inspected and retreated where necessary, then once happy with the result it was given a final rinse with water to remove any trace of cleaning product. After two days of hard work the results were truly amazing, and it was very satisfying to see the floor come back to life section by section.
Sealing Victorian Hallway Tiles/h2>
The community were very happy with the results and thankful I had managed to achieve such an amazing transformation. They were however keen to do as much of the project as they could by themselves, so I advised them on the importance of protecting the tiles with a sealer and left that bit tot the community.
With regards to sealing my recommendation was to apply a couple of coats of Tile Doctor Colour Grow as it would enhance the red and blue colours in the tiles even further. Also, being fully breathable it would be able to cope with any moisture issues which is important on these old floors which were laid without a damp proof membrane.
Removing Stubborn Carpet Glue from old Victorian floor tiles in Sheffield
[ad_2]

Source link